What is the Best terrain Tool?
Introduction
If you want to make a great environment you have to carefully choose the tool that you are going to use, because there is no turn back. So my choices when I start working on that project in 2016 was Terrain Composer, Map Magic, Gaia and World Creator. I played with all of them and after many tests I finally choose World Creator.
The evaluations
Terrain Composer: not intuitive enough for my taste, good for very large terrains but not enough control about the very small details, I didn't liked it.
Gaia: not much control about the vegetation and trees, you can get easily random results that are looking great, but as soon as you want to do something really specific, you have to use your own stamps and there is no point to use a terrain creator if you can just use a height map. I didn't liked it, it was too limited.
Map Magic: very powerful but it takes too much time to get to what you want from the abstract concept behind this tool. It can do more than others, but take too much time to achieve it. Also I didn't liked the way the author was talking, not open to change anything, quite arrogant.
World Creator: I have developed a good relationship with the Author. At first it was very buggy, and I sent him long bug reports, several pages sometime. He never gave up and was always open. Then I started to suggest what I needed for my game and he added these features into the software. Rapidly I could design an environment with vegetation, and spawn anything from particles to sounds with a very simple interface. Everything is not perfect and the main problem with World Creator is that you don't have the source code. But Stefan is someone who is designing software for a long time and supports them, so I trust him to not giving up.
After all these tests I got these pictures. To get this result I had to program my own terrain shader, and finally made a triplanar shader.
Here is the editor of the shader I made. Simple, but working.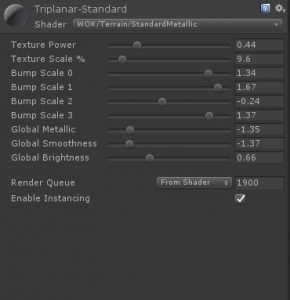 The water was another problem. At this stage I was not looking for a perfect water, and AQUA was ok.