I have added some foliage!
Foliage, rocks, debris and trees!
Thanks to the Unreal Foliage Spawners, I can easily create a complete procedural island with millions of small details that would be impossible to create manually.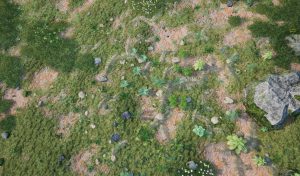 This is for example the ground view from the top. See how much details, and the island is more than 4 km2!
The tropical Jungle is totally covering the mountains, and on the flat areas, there is space to build homes, business and buildings. Roads will connect them soon.
The automatic Day/Night cycle is offering some beautiful view of the island. The weather is adding a lot of possibilities.